Belted Galloway • White Galloway

About Ladywells Farm

We don't try and pretend that we have the perfect herd, but we do know that we have many really good cattle with great genetics from quality bloodlines. We have consistently bought breeding stock from what we consider great herds across the country, always with what we like in mind; functional cattle that use forage well.
We are now concentrating on two long-term genetic projects that we started about 22 years ago; (a) Breeding Appendix Belted Galloway cattle and (b) breeding the rare "Canadian" White Galloways.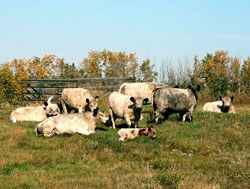 We also have a fairly extensive bank of Galloway, White Galloway and Belted Galloway genetics in frozen storage in the form of embryos and semen, we may start to market these in the future, but for the time being, these are a source of genetics preserved in case of natural disaster.
Our goals are to be the preferred source of Galloway breeding stock in Canada and abroad, to this end we have shipped cattle, semen and embryos around the globe.
Thank You
George & Joan Ramsay & Family.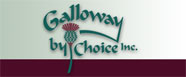 Copyright©2008-2023 Ladywells Farm
Web site developed by Danie Hardie Creative Communications Ltd.