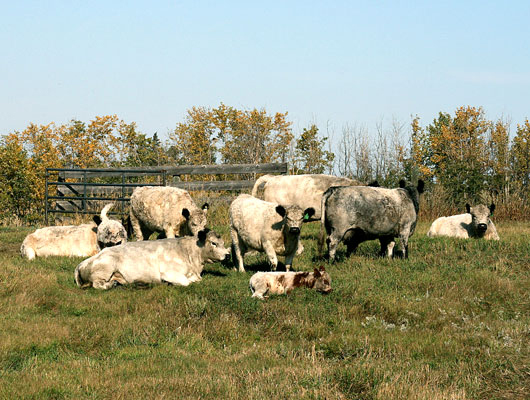 From our first purchase of Galair White Lad 13A and seven Galloway cows from the Sandrift herd in the spring of 1992 to the present time, we continue to be impressed with Galloway cattle.
Galloways have depth in profitable traits starting with fertility, the single most important economic trait in beef cattle. Other strong traits we select for are Performance, Productivity, Structural Soundness, Longevity, Reliability and Predictability. Profitability for our customers has always been a core value for us, whether you are cross breeding for hybrid vigor or breeding for feedlot performance or breeding grass finished steers for a direct quality beef marketing program, we have the genetics.
We have a longstanding interest in color pattern heritability and predictability, maintaining historical data on our herd since our first calf crop in 1993. For over 20 years now we have pursued the Canadian bloodline White Galloway and Riggit Galloway along with our strong core of Purebred Galloways. We have the most extensive semen inventory in North America including semen from 56 bulls from all four breeds. We also have an extensive inventory of Embryos and will custom collect from current breeding females and from past and present bulls.